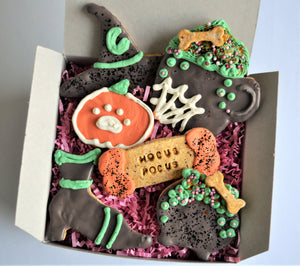 1 bottle of witch's brew, 2 frog legs, a pinch of magic, and your dog's appetite is all that is needed for these spooky cookies! Celebrate all your favorite things about Halloween with your pup and our delicious, organic dog treats!
Gluten-Free Recipe Ingredients: Organic Chickpea Flour, Organic Coconut Flour, Pumpkin, All Natural Peanut Butter, Organic Flax, Xanthan Gum. Decorated with grain-free tapioca & yogurt frosting ( Yogurt Powder, Tapioca Starch, Tapioca Maltodextrin, Coconut Milk Powder, Coconut Flour, Milk Solids, Tapioca Maltodextrin, Apple Pectin, Titanium Dioxide (for color)), all natural & human grade dyes, sugar-free sprinkles, tapioca pearls.

Shelf Life: 4 months, stored at room temperature, away from sunlight and humidity.
Each order comes with 6 gourmet cookies, as shown, wrapped in a beautiful package! 
No Preservatives, Soy, or Corn
Made with Natural & Organic Ingredients
Handmade fresh to order