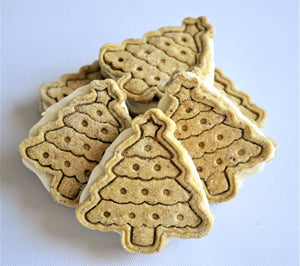 Spoil your pup with a gourmet box of macarons handmade with natural & organic ingredients!
Ingredients: Organic Chickpea Flour, Organic Coconut Flour, Organic Coconut Oil Organic Flax, Spinach Powder, Xanthan Gum. Decorated with grain-free tapioca & yogurt frosting ( Yogurt Powder, Tapioca Starch, Tapioca Maltodextrin, Coconut Milk Powder, Coconut Flour, Milk Solids, Tapioca Maltodextrin, Apple Pectin, Titanium Dioxide (for color)), all natural dyes.

Shelf Life: 4 months, stored at room temperature, away from sunlight and humidity.
Each order comes with 6 macarons, wrapped in a beautiful package! 
No Preservatives, Soy, or Corn
Made with Natural & Organic Ingredients
Handmade fresh to order